SICOMBUS
Multimedia Information and Communication System

SICOMBUS and its variant SICOMTRAIN (information and Multimedia communication System for trains), are technological tools developed by the companies ICON Multimedia and Proconsi, which aim is to inform and entertain passengers during the bus and train routes, through screens that are located inside of them.
Real Time Information for Routes With Adverts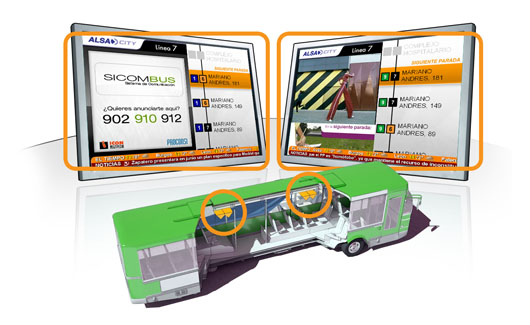 Among its varied options we underline the following next:
Useful information about the route: schedules, stops, travel, links to other lines and means of transport, etc.
Breaking news, weather, tourist information, events or activities of any kind taking place in the city.
Commercial information and advertising geo-located, associated to each point of the journey.
The user will have TFT screens inside of the vehicles on which they will have access to multimedia information in different languages along the route: stops, links, schedules… as well as commercial information geo-located at each stop, news, weather forecast, citizen information and news about city events.
This tool ensures the accessibility of visual and hearing handicapped. In addition, it offers information in multiple languages to make easier the social integration.