As DENEVA celebrates its 25th anniversary, it announced its Digital Signage solution in Las Vegas, at a private event that took place on June 6th, coinciding with Infocomm 2018. Infocomm is the largest professional audiovisual trade show in the United States.
This event was organized by ICON Multimedia, a Spanish developer that supports the latest developments in Digital Signage through its solution DENEVA, who is now seeking integrators to help expand its brand into the America's.
DENEVA's team scheduled a relaxed Meet&Greet at Firefly Tapas Kitchen & Bar, where attendees learned more about the benefits of Spain's Digital Signage CMS platform, its scalability, adaptability and international reach. It combines the latest user experience with cutting-edge technology for managing digital content, omnichannel support, integrations with third-party solutions, interactivity, advanced facial recognition technology, reporting, proximity engagement, and big-data analysis.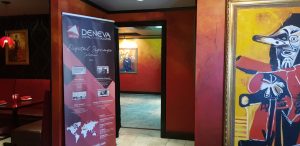 DENEVA offers its customers extensive custom development services and digital products to face new business challenges across all industries that demand visual marketing services, such as video walls, digital menu boards, interactive kiosks, "lift and learn" solutions, Passenger Information Systems (PIS) or wayfinding, among others.
Furthermore, DENEVA has its own experienced multi-lingual Service Desk, offering personalized customer service 7 days a week, 24 hours per day.
DENEVA's latest milestone into the America's is the installation of Digital Signage network in Metro Medellín which includes different channels to offer useful information to its travelers during all time, including the integration with social networks.